Visit Creede in the Winter
A unique place to spend the winter, Creede offers a wide variety of outdoor recreation opportunities, celebrations, days-upon-days of sunshine, and select moments of solitude. Crowds are non-existent this time of year and the forest is wrapped in a snowy quiet. Take a minute to reflect on yourself, your family, your life. Creede truly offers the perfect opportunity to get a taste of that good, old-fashioned Colorado experience.
Favorite Winter Adventures include:
Downtown Creede & Winter Events!
Wolf Creek Ski Area
Ice Skating & Hockey at Silver Ice Park
XCountry Skiing & Snowshoeing
Snowmobiling
Ice Fishing
Wildlife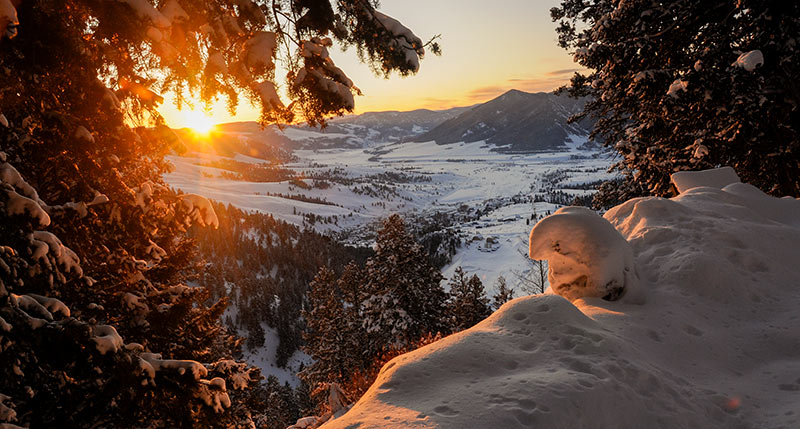 ---
Downtown Creede & Winter Events
Creede is alive and operating during the winter months! We do slow down a bit, but it is an excellent time to come and enjoy Creede. Browse our shopping/dining/lodging resources throughout the guide and see who is open year-round!
The Creede Chocolate Festival is an annual two-day event beginning the Friday & Saturday after Thanksgiving. Experience a mellow paced Creede during the month of November. This event showcases luscious samples of chocolate specialties created by local business owners and individuals.
Visit Creede for our Holiday Festivities, taking place on December 10th, 17th, and 23rd. Main Street is closed down for a holiday market, parade of lights, bonfires, and boozy drinks. Folks shop and gather together while carolers and holiday music drift up the street.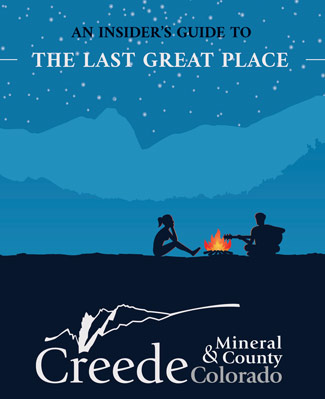 Check out our Insider's Guide to Creede for tips and information about navigating the places, paces, and people of Creede.

Wolf Creek Ski Area
Something most people don't know; Wolf Creek Ski Area has the most natural snow in all of Colorado. Skiing is affordable, and the terrain varies from gentle beginner slopes to the steep and deep. Spend a day at Wolf Creek – it is only 45 minutes from Creede and the drive is gorgeous. Enjoy the Hawaiian Ono Burger while you dine at the lodge. A perfect winter day!

Ice Skating & Hockey at Silver Ice Park
The Silver Ice Park make up one of Creede' s premier outdoor wintertime recreational facilities. The park boasts two skating ponds, a warming hut, a skate shack complete with equipment free for public use, and lights for nighttime skating. Weather permitting ponds are available for use December - February. Skate at your own risk, and HAVE FUN. Every January, during Martin Luther King Jr weekend, the park hosts a one of a kind tournament. A chilly breeze, warm bonfire, and afternoon cocktail make the Creede Pond Hockey tournament one of the most loved winter events in town. From the stands, observers can enjoy the unique rock formations while watching local Creede folk battle out-of-town teams for the puck, and yearly bragging rights!
XCountry Skiing & Snowshoeing
All are popular winter activities in Mineral County. The soft swoosh of skis cutting a trail across snow-covered meadows on a sunny day opens unlimited backcountry territory to enthusiasts and beginners alike. Mineral County offers many miles of groomed trails for cross-country skiers! Make the trip into town to rent gear from San Juan Sports and get updated info on where you should head out!
Ice Fishing
Mineral County's lakes and reservoirs provide excellent winter fishing. Ice fishing is a favorite winter pastime for the locals. Stop at the Ramble House for expert advice on ice fishing. The Kentucky Belle Market and Downstream Gas & Mercantile have fantastic food selections for packing a lunch or grilling at the lake!
Snowmobiling
Trails for all categories of riders are plentiful in Mineral County. Join the Snow Country Explorers Club, go on a guided adventure with Lake City Auto & Sports Center, or take a workshop from the crew at Mountain Skillz. Mineral County's vast expanse of National Forest and state recreation areas support more than 85 miles of groomed trails. Trails connect Creede, Lake City, and South Fork. This area of Colorado is known to have what many consider perfect riding conditions. Have a blast in the snow!
Wildlife
Fall and winter are exceptional times of the year to observe wildlife. Mornings and evenings offer the best chance for spotting an animal. While passing Wason Ranch, you may see a large herd of elk. Truly a captivating experience, these herds can sometimes number in the hundreds. Continuing along Hwy 149, keep an eye out along the river for a chance to see an American Bald Eagle. Once you reach Pool Table Road look for the herd of Big Horn Sheep usually grazing near the road. Be sure to bring your camera!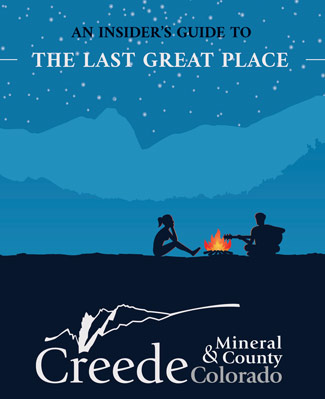 Check out out Insider's Guide to Creede for tips and information about navigating the places, paces, and people of Creede.
This content
sponsored by