Wolf Creek Ski Area
P.O. Box 2800, Pagosa Springs, CO 81147 (mail) • This email address is being protected from spambots. You need JavaScript enabled to view it.
Open: Late October/Early November - Mid April
Located in the southwest corner of Mineral County on US 160, Wolf Creek Ski Area boasts "The most snow in Colorado" averaging over 430" per year! Skiing is affordable, and the terrain varies from gentle beginner slopes to the steep and deep. The full-service ski area covers 1600 acres, has ten lifts, and accommodates snowboarding.
Spend a day at Wolf Creek – it is only 45 minutes from Creede and the drive is gorgeous. Onsite dining facilities offer breakfast and lunch with burgers, pizza, salads, soups; beer, wine & spirits. We recommend the the Hawaiian Ono Burger while you dine at the lodge. A perfect winter day!

---
X-Country Skiing & Snowshoeing
All are popular winter activities in Mineral County. The soft swoosh of skis cutting a trail across snow-covered meadows on a sunny day opens unlimited backcountry territory to enthusiasts and beginners alike. Mineral County offers many miles of groomed trails for cross-country skiers! Make the trip into town to rent gear from San Juan Sports and get updated info on where you should head out!
The Upper Rio Grande Nordic Club (URGNC) maintains ski and snowshoe trails on public lands in the Creede area. Trails are operated and maintained by club volunteers under Rio Grande National Forest permits.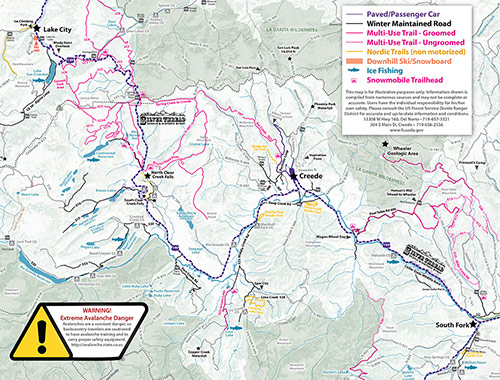 Deep Creek Cross Country Ski Trail is located at the Forest Service Administration Site on the east end of Deep Creek Road. There are two trailheads: one on Deep Creek Road about 1 mile west of Colorado Hwy. 149 (mile 18.5) and the other 1/4 miles west of that at the Forest Service Administration Site. This trail is on a bench of Snowshoe Mountain offering wonderful views of the Rio Grande River Valley. Two to four miles of trail loops are typically available with 100'-200' in elevation changes.
Ivy/Lime Creek Cross Country Ski Trail is located between Spar City and the Ivy Creek Campground. To get to the trailhead take Middle Creek Road, FSR 523, past the Sixmile Flats Trailhead (see description below). Four miles past the Six Mile Flats Trailhead take the left fork on FSR 528 to Spar City (follow sign to Lime Creek Rd). The trailhead is almost 1 mile south of Spar City and the trail starts up FSR 527. This loop trail gains approximately 400' in elevation, is mostly forested and retains a wildland character. Two and a half miles of trail are typically available.
Sixmile Flats Trail is the newest of the URGNC's trails. It begins near Marshall Park Campground at the intersection of Highway 149 and Middle Creek Road, FSR 523, (Hwy149 mile 27.75). The trail goes to the northeast on Sixmile Flats. As the name suggests, there is little elevation change and the trail is great for beginners. Four miles of trail loops are typically available.
Spring Creek Ski Trail is located off Hwy 149 at the Spring Creek Pass Corrals. The trailhead is on Highway 149 at mile 54.25, approximately 0.5 miles south of Spring Creek Pass. The trail follows old forest service roads, is forested and retains a wildland character.
Trail maps are available here > URGNC Trail Maps < For questions about trail conditions, email This email address is being protected from spambots. You need JavaScript enabled to view it.. If you send an email with the word "Subscribe" in the Subject line, the Nordic club will add you on a list to receive regular trail updates.