Creede and Mineral County are located in southwestern Colorado and can be reached by car, small airplane, or other means of transportation listed on this page. Some lodging establishments in Mineral County provide shuttle service—check when making reservations.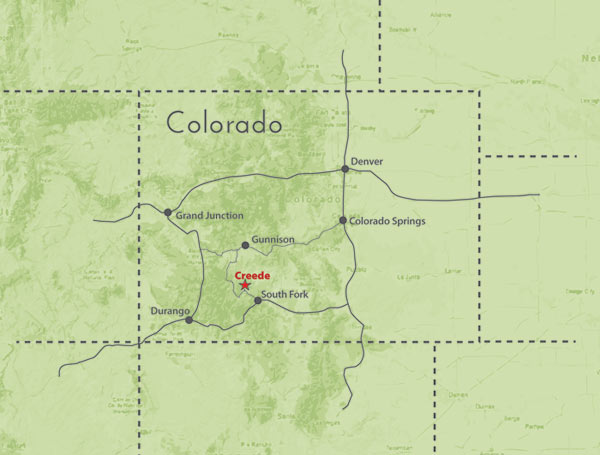 Highway
By highway, Creede is about 265 miles southwest of Denver and about 260 miles north of Albuquerque. Approaches from the north and south include US 285, I-25 (to the east), and US 550 (to the west). All three of these highways intersect US 160, the primary east-west route through our region.
Airports
There is scheduled airline service to the following airports, all of which have car rental agencies:
Alamosa—about 70 miles southeast of Creede
Gunnison—about 100 miles north of Creede
Durango—about 120 miles southwest
Private/Charter Plane
Mineral County Memorial Airport, about two miles south of Creede, provides a 6700 x 60' paved runway which was resurfaced and improved in late 2000. For more information, visit www.airnav.com/airport/Q39.
Bus
Interstate bus service connects to Alamosa, and a shuttle service transports to towns in the region.
Train
Nearest Amtrack service is to Trinidad, Colorado, about 179 miles southeast of Creede.
Rental Cars and Trucks
Rental cars are available in Alamosa, Gunnison, and Durango. U-Haul Truck rentals are available in South Fork (23 miles southeast) and other locations in the region.