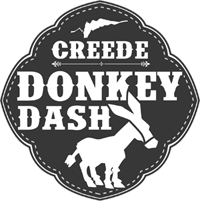 June 11, 2022, **New This Year: 10 AM Start Time!**
Burro racing is a great sport begun by some of Colorado's 19th-century miners. Those hardy characters used burros to carry mining tools and supplies through the Rocky Mountains as they prospected for gold, silver, and other valuable ores. Since the burros were carrying a full load, the miners had to walk, leading the animal with a rope. Legend has it that two miners found gold in the same location, and raced each other back to town to be the first to stake a claim to the find. Neither could ride their animal because of its load, so one of the basic rules of burro racing was established.

The Creede Donkey Dash will abide by the basic rules of burro racing as established by the Western Pack Burro Association. Competitors will run the entire distance, leading their pack burro.
The Creede Donkey Dash starts and finishes on Main Street adjacent to Basham Park. Teams consist of a burro and runner. The course covers about 10 miles through Creede's Historic Mining District. Competitors will pass by the Creede Underground Mining Museum, (New Course Direction) past the Commodore Mine UP the "Black Pitch", run through the Weaver Town Site, follow the 4x4 Road by the Midwest Mine, up and over through the switchbacks, pass Phoenix Park and then down the East Willow Canyon, through North Creede, and then south back into town to finish off the final three miles of the race with a gradual downhill that ends on a cheering Main Stree! Several mines can be seen along the racecourse, including the remnants of the Kentucky Belle, gripping the cliffs hundreds of feet above the road. The course is subject to change due to FS Road Conditions. The Alternate course loops in front of the Court House from Main Street to Loma Avenue up towards Capital Avenue and picks up Forest Road 504/Bachelor Loop Road. Runners will turn around and follow the course back to the Start Finish Line.
Read this fun write-up about the 2017 Donkey Dash!
"Your Turn: The Inaugural Creede Pack Burro Race"