Street Festival & Vendors • Mining Competitions • Live Music • and More!
Sunday and/or Monday, July 3rd, 2023 (Date not yet set for mining events)
9 am - Late Afternoon: Days of '92 Mining Competitions
Team Machine (Jack-leg) Drilling
Spike Driving • Double Jack • Machine Mucking
Street Vendors, Beer Garden
1pm - Theatre Show "Patsy Cline"
8pm - Elks Lodge Dance
Live Music at various places around town
Tuesday, July 4th, 2023 (mining events may change)
9 am - Late Afternoon: State Mining Championships
Hand-mucking • Machine (Jack-leg) • Drilling Single Jack
10 am - Parade "Creede: The True Silver Lining"
Street Vendors, Beer Garden, and Farmer's Market|
6:30 pm - ChuteOut Rodeo at Fairgrounds
Dark-Thirty: Fireworks (South of Creede, near the Fairgrounds/RV Park)
Live Music at various places around town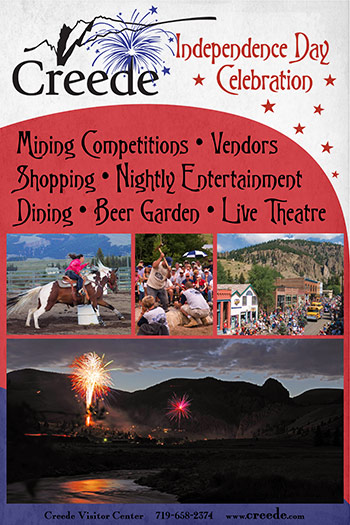 ---
It's only fitting that Creede's largest festival of the year centers around preserving the history of mining. Like many Western mining towns, Creede has always had mining competitions. When the area's mines were operational, the events were sponsored by the different mining companies as morale boosters for the miners. With the mines being mostly closed for more than 30 years, the need to preserve Creede's mining past is as important as ever. Creede is and always has been a close community whose residents pride themselves on the town's storied past.
For more than 46 years now, Creede has hosted a two-day competition that draws mining competitors from across the Southwest region. The competitors are actual miners who come to Creede on July 4th each year to battle for the highly-coveted prize of "Best Overall Miner of the Year".
On the first day of the competition, the Colorado State Mining Championships features a taxing gamut of events that test the skill levels of the miners both physically and mentally. The second day of competition, the Days of '92, has been a staple since the 1960s. When the State Mining Championships came to Creede in the late 1970s, the two competitions were melded together into one.
The different events, Jack-Leg Drilling, Hand Steeling, Hand Mucking, Spike Driving, and Machine Mucking, are designed to show spectators the daily life of a hardrock miner.
Spectators can enjoy the mining events every year in the Basham Park arena in downtown Creede. The events are free to the public and a permanent grandstand has been constructed for easy viewing. The events begin both mornings at 9 a.m. and usually last until mid-afternoon.
Interested in being a vendor? You'll find the 2022 Vendor Info and the Application here. Contact Kristeen with Parks and Rec if you have questions (719-658-2729).
Creede 4th of July from Bev Chapman on Vimeo.